We have now gone from sod to tomatoes!
Here is this year's formula for the new tomato patch.
Last fall I covered the area with leaves and straw.  I let the fall rains fall on it.  Then I covered it all with black plastic...
Early spring it was rototilled under and recovered with plastic.
I started my tomatoes indoors early March, hardened them off in May
A week before I was going to plant out the tomatoes I uncovered the soil and raked it into long mounded rows adding crushed oyster shells.
Laid out the soaker hoses and pinned them down
I covered the rows with plastic and the paths with newspaper and straw.
I dug holes and added a shovel full of partially finished compost to each hole and planted in my tomato plants...48 of them!
The only think left is to finish building 48 tomato cages....anyone good with pliers?  You are more than welcome to come and help!
There you go, all tucked in and ready for...
And in case you were wondering where my new tomato patch fits into the scheme of the garden...
I put it in between the potatoes and melons on one side and the straw bale compost pile on the other (right side of photo, you can just see the corner)
Now I'm off to make tomato cages...hope you all have a happy and productive day!
And don't forget to come back tomorrow for the kinderGARDENS updates...our maze is up!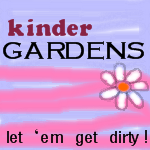 It is not too late to join the fun!